Get Your Real Estate License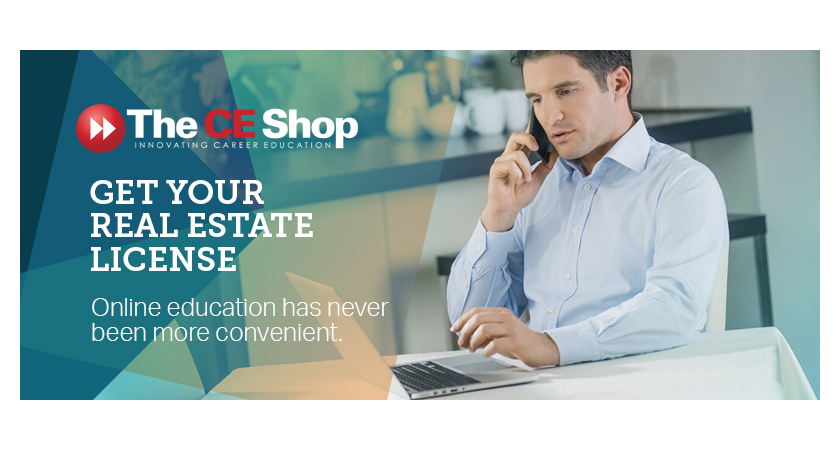 Pre-Licensing
Getting your salesperson's license
A career in real estate offers many rewards: flexibility not often enjoyed by other professions, satisfaction from helping people, and importance—the real estate industry drives a significant component of our nation's economy.
Orange County REALTORS® is pleased to launch a new learning venture with The CE Shop to offer salesperson pre-licensing courses.
CE Shop's innovative course delivery platform offers an engaging learning experience that combines the interaction with your peers and instructors from the classroom with the freedom and flexibility of online learning.
Start your pre-license courses with CE Shop now

Are you or a member of your family in the military?
Sign up here using a military ID, either your own or your family member's, and you'll receive an exclusive 40% discount off your pre-licensing package.

Become an Orange County REALTORS® Student Member
Once you start your salesperson coursework, you are eligible to join Orange County REALTORS® as a student member. It's only $25.

We offer valuable resources for prepping you for your future as a REALTOR®, which includes receiving our OC REALTOR® magazine, access to first-rate training (many classes are offered free of charge), as well as important industry news and updates.

A student membership offers you the opportunity to make connections with seasoned REALTOR® salespersons and brokers—ultimately helping you select the brokerage that's the best fit for you.

Get more info on Orange County REALTORS® Student Membership

Then, once you've earned your CalBRE license and have hung your license with a brokerage, we welcome you to upgrade your student membership to a full REALTOR® membership.
Get Your Broker's License
We are pleased to launch a new learning venture with REVEI to offer broker licensing courses.

REVEI's DRE accredited broker courses provide a simple and clear method for upgrading your real estate license. Course work is completed from the convenience of your home or office.



 Start your license courses with REVEI now

Whether you purchase 1 course or all 8 courses, you will receive a complimentary entry to our in-person Broker License Crash Course (valued at $150 for OC REALTORS® members).



 Prepare for the big test with our Broker License Crash Course

Have you completed the 8 licensing courses but need to brush up before the big test? This is a Broker Crash Course you can't afford to miss! This six hour course is designed to help students prepare and pass the California State Broker Exam.
Licensing Courses Covered:
Real Estate Practice
Legal Aspects of Real Estate
Real Estate Finance
Real Estate Economics
Real Estate Appraisal
Real Estate Principles
Property Management
Escrows
Let us help you pass the DRE Broker Exam!  The Crash Course is free with purchase of any OC REALTORS® Broker Licensing Courses.

Cost:
Members: $150
Nonmembers: $300
Sessions: Click to View Upcoming Sessions
Renewing your real estate license doesn't have to be a hassle. Whether you have a salesperson's or a broker's license, Orange County REALTORS® can assist you each step of the way.
License Renewal
At Orange County REALTORS®, we offer two excellent, flexible renewal options for your salesperson or broker's license—REVEI and The CE Shop. You don't have to be an Orange County REALTORS® member to take advantage of our license renewal programs.

It's recommended that you start the renewal process at least six months before it expires. Check when it expires


Online renewal
Study for and take your tests in the convenience of your home or office and on your schedule through a variety of options!

Option #1: Revei's DRE certified continuing education course offers simplicity and clarity to the renewal process and will guide you each step of the way. You have the option of studying online or having books sent to your home or office. Use promo code "downtime" to get $10 off your renewal fee.


 Start your renewal now
Option #2: The CE Shop's courses are not delivered via an online text book, they are truly interactive and engaging, include built-in exam prep, a downloadable resource library, and offer seven-day a week customer support. Watch our site and communications for valuable promo codes for an even deeper discount on your renewal. The DRE will allow renewal online 90 days prior to the license expiration date.


 Start your renewal now
Option #3: Duane Gomer Seminars has taken the confusion out of the license renewal procedure, and will provide you with all of the DRE-approved courses that you need. This program can be purchased with PDF textbook only or with a hard-copy text book and PDF textbook.


 Start your renewal now

Also available:
Complete your continuing education online through C.A.R. and take advantage of your 45 free hours of online CE credits
eLicensing
While Orange County REALTORS® does not file any paperwork with the DRE on your behalf for license renewal, we can assist you with accessing eLicensing to complete the renewal process online.* Bring your certificate numbers, your broker's license number (or the corporate license), your broker's email address, and your credit card to pay for your renewal.

DRE also offers step-by-step instructions at eLicening tutorial page.

*Officer and Restricted Licenses and Continuing Education Exemptions If you have an officer's or a restricted license, you are not eligible to use eLicensing to complete your renewal. In addition, if you meet the requirements for CE exemption and are filing the exemption for the first time, you may not use eLicensing to renew. After DRE grants your exemption, you may renew online for each subsequent four-year renewal.

You will need to mail your renewal paperwork, along with a check or credit card payment form, directly to the DRE. Because of lengthy processing times, it is recommended that you send your complete renewal package no later than 90 days prior to your expiration date.
Active Duty Military
License renewal protections are offered to our active duty military. If you have a permanent change of station (outside California) or are deployed during the last eighteen months of your license renewal, contact us so we can advise you about submitting an extension request.
Late Renewals
You are allowed two years beyond your license expiration date to renew on a "late basis"; however, when your license shows as "expired" on the DRE website, you cannot perform any acts for which a real estate license is required—including receiving a commission! If you don't renew within two years from your license expiration date, you will forfeit the right to renew and you will have to start all over again as a pre-licensee.