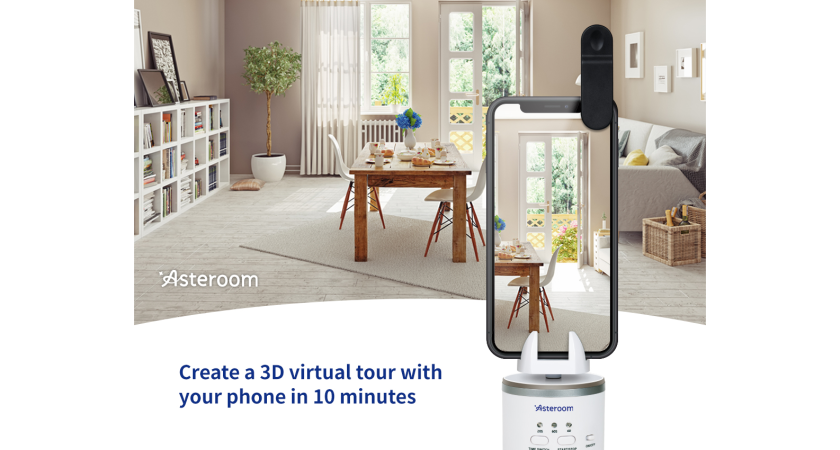 Asteroom 3D Virtual Tours
Asteroom is a hardware and software platform that allows you to take 3D virtual tours using just a smartphone. The virtual tour software includes an online photo editor and an app. Plus, the easy-to-use and affordable Asteroom Pano Kit is a technology-forward alternative to 360° cameras.
Un like using cameras that cost thousands of dollars, Asteroom 3D tour uses photos taken with just a mobile device to build immersive 3D models. With Asteroom, you can increase the visibility of properties and enable buyers to tour any property from the comfort – and safety – of their own home. You don't need to hire a professional photographer, you can create high quality 3D virtual tours with just your smartphone, the Asteroom Pano Kit and a basic tripod.

View smartphones and cameras that work with Asteroom. 
Suggested tripods: Amazon Basics 50" Lightweight Tripod, Amazon Basics 60" Lightweight Tripod, and ZOMEI 55" Compact Lightweight Tripod.
Asteroom is offering an exclusive deal for Orange County REALTORS®. You can purchase an Asteroom Pano Kit for $79.00 (MSRP $89.00) plus receive 1 free/complimentary dollhouse processing, 1 free/complimentary image enhancement, and 1 month of subscription membership to Orange County REALTORS® members. To take advantage of this offer, purchase your Pano Kit and use coupon code OCR10.