In Memoriam: H. Richard Steinhoff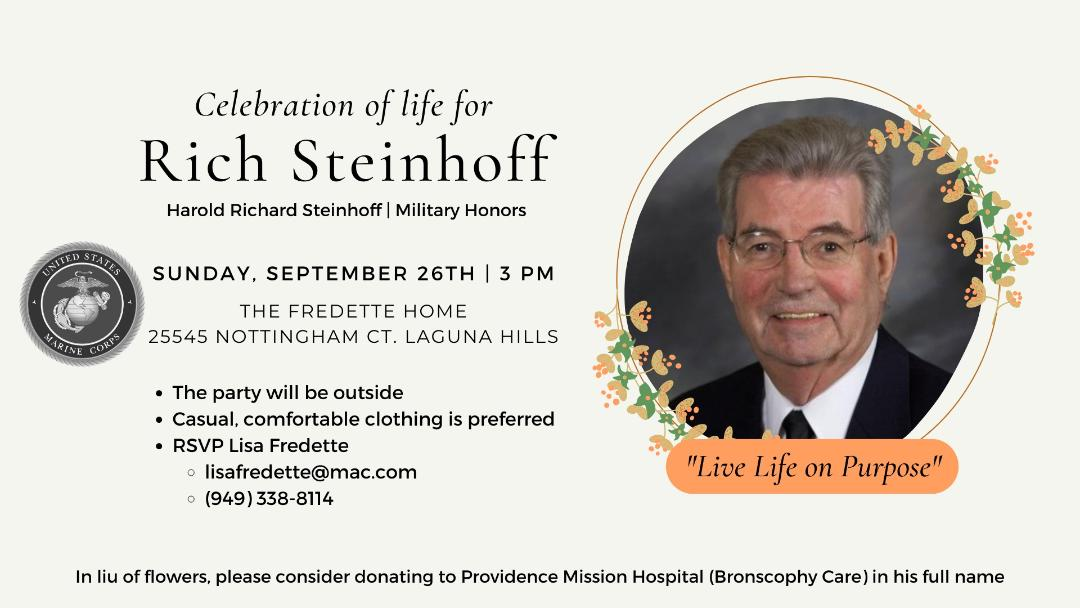 It is with great sadness that we announce the passing of a beloved member, Rich Steinhoff.
H. Richard Steinhoff aka "Rich" or "Poppy" was the beloved husband of Elaine. Together for more than 35 years, they shared a beautiful life together that included so much happiness, laughter, endless beach strolls, and memories that could not be contained in his more than 100 photo albums.
Born in Cuba City, Iowa in 1936, Rich did it all, with passion and purpose that fueled his desire to serve as a Marine in the USMC for six years before joining NASA as an engineer on Apollo 13. Seeking his next adventure, Rich later opened his own real estate office in Irvine, leading his team as a well-respected broker. A graduate of Cal State Long Beach, and UCLA post-grad studies, Rich was a member of Mensa, devouring word Jumbles, and reading everything. His passion for the Arts led him to fundraise for the Orange County Performing Arts; he was so proud to be recognized as one of the contributing founders and a patron of the Arts.
Rich served endless hours volunteering in the community, serving on many boards, and fundraising millions of dollars for charities across Orange County. Everybody was Rich's best friend, and you only had to see the twinkle in his eye to know that you were always the most important person he was talking to. He was a gentle and kind man who loved magic, telling jokes, eating ice cream and always, white chocolate.
But on any given day, what he loved most was talking to his eight grandchildren, 2 great-grandchildren and his wonderful children Nina and Richard. He loved that Lisa claimed him as her bonus dad as well- he considered it a gift to have Debbie and Diana and Walt Hotchkiss join the family as Elaine and Rich married.
Rich's time was well-spent- most recently as an author and a speaker, sharing his dream to help people live their life with purpose. In his 85 years, he was not finished; he was working with a producer to create a movie about his book, Dying on Purpose. A near-death experience a few years ago had shown him a glimpse of heaven, which he has shared across the world.
He is reunited in death with his mom & dad, Kathlyn and Harold, and his brother Tom.
Rich now rests in paradise in the arms of angels. His family is heartbroken but comforted in his place in Heaven.
In lieu of flowers please consider donating to Providence Mission Hospital Foundation in his name (Bronscophy care.)