California Law Standardizes Real Estate Advertising Rules


By Bob Hunt
C.A.R. Director
A licensee must include his or her name, license identification number, and responsible broker's identity on all solicitations intended to be a first point of contact with consumers.
Effective January 1, 2018
California real estate agents and brokers are subject to a new and different set of rules covering their advertising. The new rules were spelled out in Assembly Bill 1650, which was signed into law by Governor Jerry Brown on August 19, 2016.
No, that's not a typo; the law was passed a little over a year ago. The long delay in making it effective was an accommodation in recognition of the costs, planning, and physical changes that would be required. More than a year's time was given. But now the law is in effect.
AB 1650 came about in response to what, over the years, had become a hodgepodge of rules covering real estate advertising. Although no actual conflicts existed, different rules covering different types of ads and solicitations had led to confusion. Hence the 2016 legislation, which became known as the "uniform advertising standards."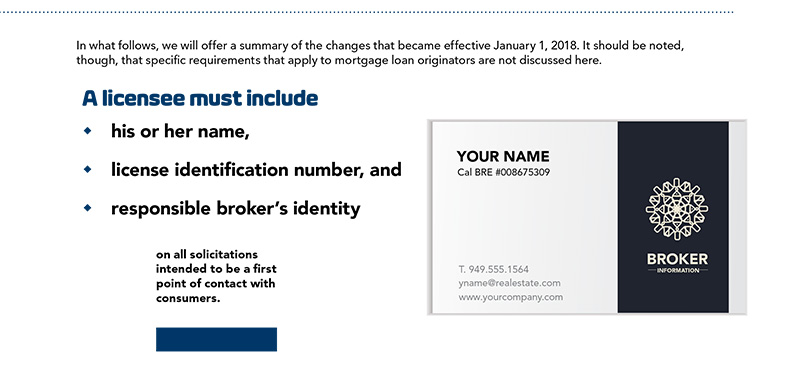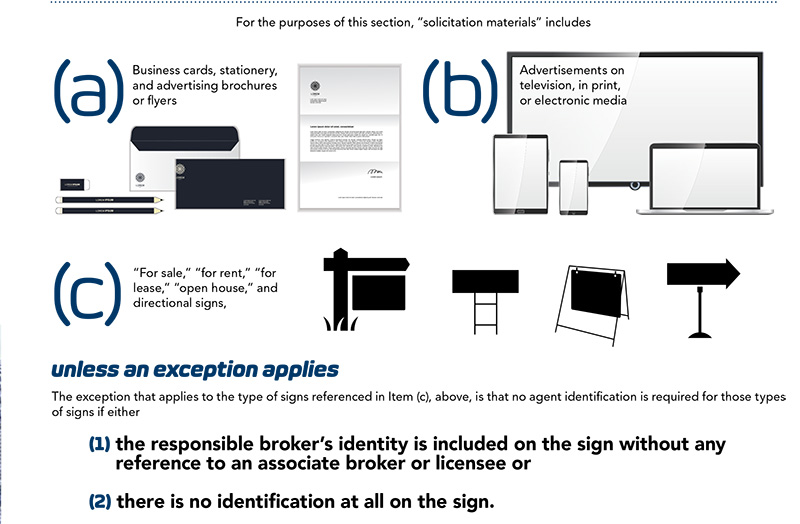 Suppose, for example, that a directional or "for sale" sign had the company name (responsible broker identification) on it (e.g., an arrow that contained the following: Open House, ABC Realty). That sign also would notrequire the name and identification number of an agent. Though, of course, an agent's name and number couldbe on it, but then the exception would not apply.
Conversely, suppose the directional sign said only Open House. Again, no agent identification would be required.
What you can'thave is a sign with the agent's name and/or number, but without the responsible broker's identification. If the agent's name is there, the broker's must be also.
While an agent's name must be accompanied by his or her identification number, that is not the case for the responsible broker or firm. Including the broker's identification number is optional.

Bob Hunt is a director of the California Association ofREALTORS® and is the author of Real Estate the Ethical Way. His email address is scbhunt@aol.com.