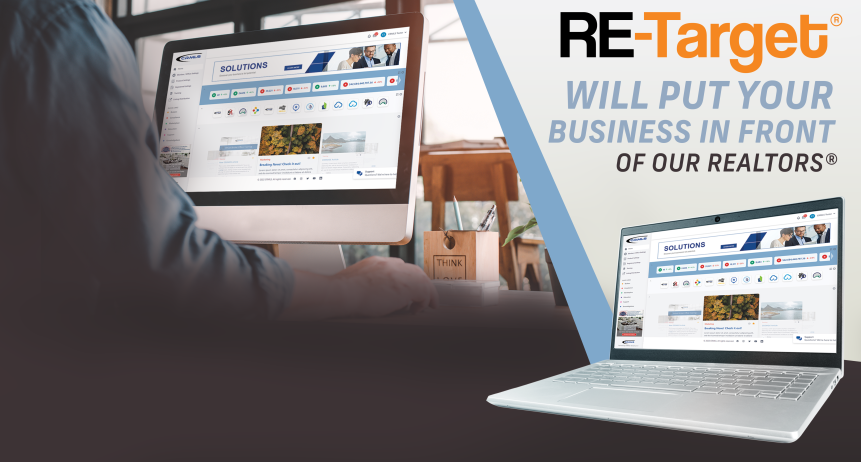 RE-Target® Digital Advertising for Affiliates
Want to get in front of REALTORS® every day? Advertise to our members directly within the CRMLS RECenterhub dashboard with RE-Target®!

Orange County REALTORS® is excited to announce the addition of RE-Target®, our newest industry partner benefit. It's a new digital advertising program enabling you to be front and center in the CRMLS REcenterhub dashboard where agents and brokers are most active. This highly effective advertising can help you build relationships and drive business referrals. 
Special Introductory Offer
Orange County REALTORS® Affiliate Members have an opportunity to get their business in front of REALTOR® members with a limited time 6-month offer. Buy 3 Months*, Get 3 Months FREE!
Space is limited to only 20 advertisers+ and you must sign up by Monday, May 15 to take advantage of this offer. SIGN UP!


*To take advantage of the Introductory Offer, members will be required to pay a $250 setup fee which includes artwork design of your ad and $200 per month for the first 3 months, July-Sept, in order to receive the last 3 months, Oct-Dec, for free. Ads will run from July 1, 2023 through December 31, 2023.
+If more than 20 Affiliates express interest in the introductory offer by the deadline, we will randomly select 20 Affiliate members for the program.

 
Watch Below to Learn More
Learn about RE-Target® for OC REALTORS® Affiliates
See what RE-Target® advertisers are saying!