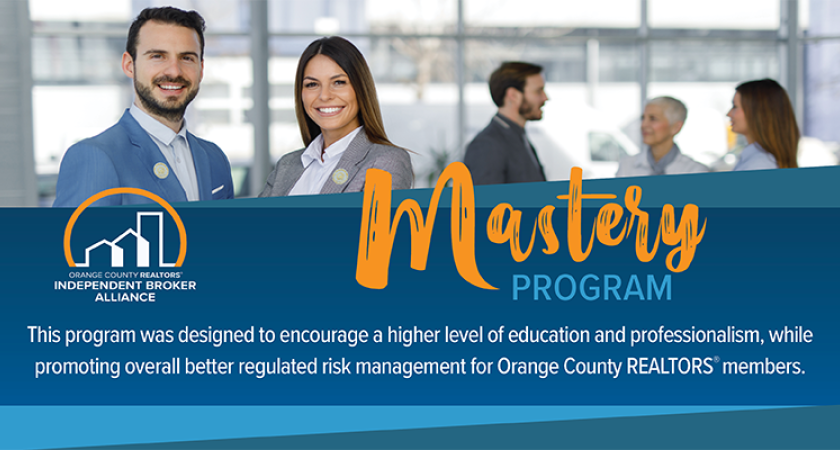 Mastery Program Sponsored by Independent Broker Alliance Committee
1. Hold Current Designations
 
       or
Hold 2 of the Following Designations

2. Complete 3 OC REALTORS® Courses
Must complete 1 course from each of the following tracks

Track 3: Building Your Business

These courses are designed to help you grow your business by providing strategic instruction on planning, traditional and social media marketing, lead generation and conversion, as well as tools and resources to promote you, your brand, and your market area.

Track 5: Managing Risks

Learn how to anticipate and navigate around risks to your real estate practice. From personal safety to cybersecurity, disclosure best practices to tips on avoiding lawsuits, we provide valuable instruction of use to members at any stage in their career and in any position.

Track 8: Professional Standards and Leadership Development

Successful leaders never stop learning. Courses in this track will equip you with the needed skills to assume a leadership role within organized real estate, in your real estate business, and in your community. Sharpen your communication skills, learn to build better relationships, navigate conflicts, negotiate solutions, and manage change. Improve your effectiveness as a real estate professional.

3. Attend 75% of the Independent Broker Alliance Forums
Must attend within a 12-month period

Only active Orange County REALTORS® members are eligible to apply for the Mastery Program. Upon completion, you will be recognized at an upcoming IBA Forum with a Mastery Program certificate of completion and program lapel pin as well as recognized on Orange County REALTORS®' social media pages.
 
Completed applications can be submitted to Tiffany Gardner Wood.